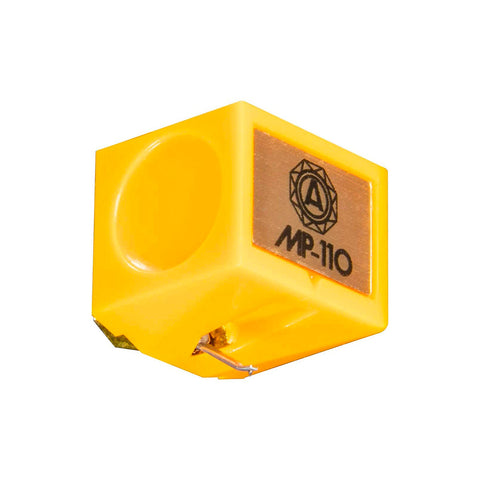 Nagaoka JN-P110 | Replacement Stylus
Pickup currently unavailable
Replacement stylus for the MP-110. This item is a standalone item and does not include the cartridge. Please note the distinction between headshell, cartridge, and stylus. 
The MP-110 is a fantastic, affordable cartridge with hundreds of five-star reviews. The general consensus is that this cartridge provides high fidelity sound at an attainable price point. Its performance, particularly on the inner groove, is impressive. Most consumers put this cartridge somewhere between the Ortofon Red and Ortofon Blue.
Nagaoka's prestige is also shown in the beautiful, well-thought-out packaging of this product. The needle is well protected by a plastic sphere during transit. If you are swapping headshells often, this can be reused while another headshell is in play. 
The MP-110 is the successor to the "MP-11", which won the Grand Prix in Europe and became a big hit model. It can be used in various music regardless of genre.
Output voltage: 5mV (5cm / SEC)
Frequency characteristics: 20Hz ~ 20,000Hz
Channel separation: 23dB (1KHz)
Channel balance: 1.5 dB or less
Load resistance: 47KΩ
Load capacity: 100pF
Cantilever: Aluminum alloy
Needle tip: 0.4 × 0.7mil Ellipse / bonded diamond
Appropriate stylus pressure: 1.5 ~ 2.0g
Cartridge weight: 6.5g
with headshell weight: 16.5g