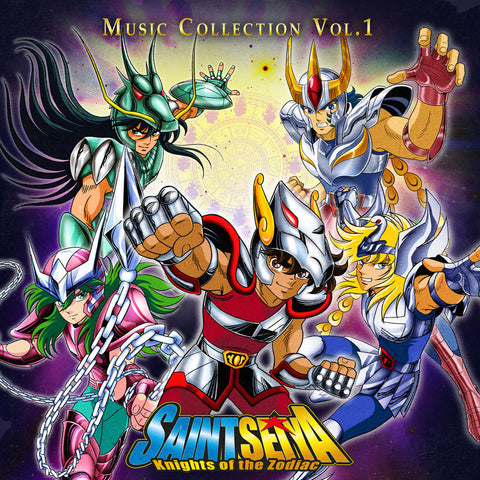 Saint Seiya: Original Soundtrack (Volume 1)
Pickup currently unavailable
First vinyl issue of the Saint Seiya Anime's cult Soundtrack. Limited Edition. Preorders of this item cannot be canceled. All sales are final.
Seiya is an orphan who, as a young boy, was selected by the Kido Foundation to bring legendary bronze armour back to Japan. He succeeds, along with 10 other orphans. Forced by the foundation to take part in a "show", the knights embark on a tournament before the prize, the golden armour, is stolen. Little by little, they realise that their problems stem from the Sanctuary in Greece, home to the 12 most powerful knights, the Golden Knights, and their leader, the Great Pope. His target is the young Saori Kido, heiress to the foundation and reincarnation of Athena.
The series was a huge success and spawned an extensive franchise, with TV series, films and video games. This album features the best music and songs from the anime, composed and arranged by Seiji Yokoyama (GATCHAMAN).
Tracklist
1. Pegasus Meteor Fist (Pegasus Fantasy ~ Blue Forever) 04:44
2. Sanctuary, Precepts of Death 03:26
3. Galaxian Wars 03:54
4. Burning Cosmo 04:09
5. Oath to One's Guardian Star 05:47
6. The Saints of Athena 04:31
7. Revenger Phoenix 04:27
8. The Challenge of the Black Saints 03:59
9. Sad Brothers 04:38
10.Into an Era of Legend 04:56