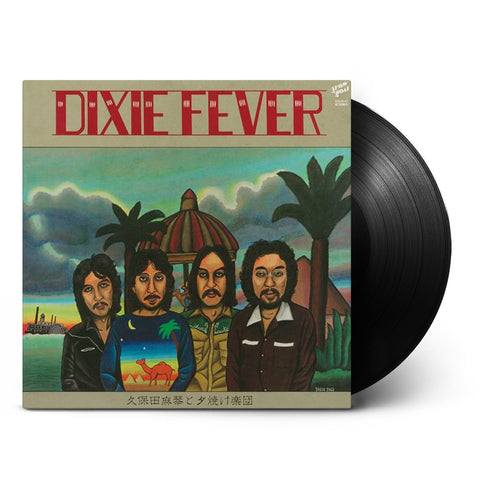 Kubota & The Sunset Gang: Dixie Fever
Pickup currently unavailable
Wewantsounds close the Makoto Kubota reissue series with the release of Dixie Fever recorded in Hawaii in 1976 and co-produced by Haruomi Hosono. Like its predecessors, Dixie Fever continues to explore American and Island music through a Japanese prism with a skillful mix of blues, swamp funk, and America adding an exotic edge to the whole.
A year after the release of their highly-acclaimed album Hawaii Champroo in 1975, Makoto Kubota and The Sunset Gang reunited at Sounds of Hawaii studios with co-producer Haruomi Hosono to record a new album, Dixie Fever. They used pretty much the same ingredients that had made the success of Champroo—an effortless mix of Japanese folk and American roots music with some tropical influences. The same mix that Haruomi Hosono was applying to his own albums, especially Tropical Dandy which was experimenting with the same ideas—in fact, the front cover of both Tropical Dandy and Dixie Fever are illustrated by Yasuo Yagi.
As per Hawaii Champroo and Sunset Gang, Dixie Fever includes a mix of original compositions and covers. On the album, you spot The Lovin' Spoonful's "Wild About My Lovin'" and a funked-up version of UK singer-songwriter Ralph McTell's song "When I Was A Cowboy". They feature the Gang's usual musicians (Keni Inoue on guitar, Yosuke Fujita on slide guitar, and Takashi Onzo on bass and keyboards) complemented by a handful of guests including Tin Pan Alley drummer Tatsuo Hayashi, Motoya Hamaguchi on percussion, and New Orleans pianist and Dr. John friend, Ronnie Barron. Together they play a superb brew made of blues, soul, Hawaiian music, and southern swamp rhythms.
One of the highlights of the album is undoubtedly "Hoshikuzu (Stardust)" which has become a cult classic over the years on the international city pop scene and whose sunshine mid-tempo vibe is the perfect reflection of the group's musicianship.
This is the first time the album is released outside of Japan. Features original artwork with OBI and insert plus remastered audio by Makoto Kubota himself.